Post by Zero Valentine on Jun 8, 2014 1:28:09 GMT -6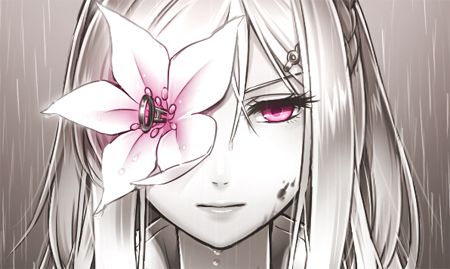 I AM A MONSTER - I'LL DEAL

Zero hated this feeling, she prided herself on never having a mark on her skin from a blade and yet here she was. Bloodied and bruised and stumbling through the forest hoping to find water soon. She couldn't ask the villagers for help, how could she when she was the one that did most of the damage to herself and Ivan. Not to mention she needed them to help him and who knows how long it will take him to recover. She thought about him for a moment, how would he see her now? His words rang through her mind again as she put her hand to rest on a tree trunk. "A monster hey?" She looked up to the tree tops, searching for the sky but found the leaves heavily clustered or maybe it was that she was too far gone and the light would not reach her where she was now. "Fuck metaphors!" She said as she pushed herself off the tree. "And fuck Ivan." Had he not come and interfered she would have been fine, the girls were free that guy would have died and she would have walked away; a little angry but not in a fit of rage.

Dragging her feet and keeping hold of anything she could for support till she finally herd the sounds of water. It was as if it gave her a second wind for she pushed harder and stumbled, feel and then eventually crawled to the river bank. At first she drank, she cupped her hands and drank till she felt less dizzy – by now the blood loss had caused her to become faint and she felt her eyes becoming droopy. Without any further hesitation she fumbled through her bag for a cloth and dipping it in water. She tried to clean her wounds on her stomach but her shoulder armour and jacket were getting in the way. Forcing herself to move with the little energy she had she fingered at the buckles before finally letting the jacket and armour fall to the ground. Now sitting on her knees she tried to clean herself again.

With each dab she felt herself becoming faint, there was now a pool of blood around her and the water had started to taint with red. She knew she had more blood flowing in her than the average person but this, this was becoming too much and she wasn't able to get to each cut quick enough. With heavy eyes now her body started to give in and her mind was soon to follow. Swaying now her hand dropped to her side and she fell to the ground, laying there in a pool of her own blood.