Post by Zero Valentine on Jun 8, 2014 8:59:13 GMT -6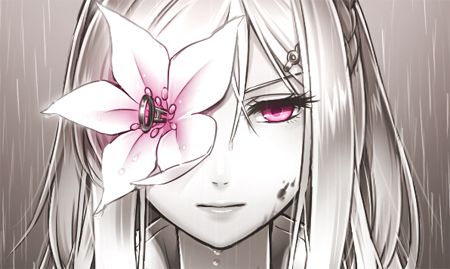 I AM A MONSTER - BUT I HAVE A SOUL


She felt the hot steel pierce her skin and she let out a cry, yes her senses were a little dull but the pain was still so intensely real. When she heard her voice she bit her lip so she would cri out again until eventually so found herself taking another drink from the bottle. In and out each stitch went but just as quick as it went in he was done. She realised the breath she had been holding "And that was only the first one." She tried to make light of it but her tone was dark, she wasn't looking forward to enduring this.


Eventually he had tended to them all, some she groaned loudly over and others she did cry out only to bite her lip again to stifle it. He had begun to mix some herbs, she could tell because she could smell the strange aromas next to her. Feeling the paste on her skin and the bandages covering it she wondered how long she had to bare this. She noted that he hadn't taken her clothes off to do all the healing work – it was a pleasant realisation because it was true he didn't actually need too. The damage was mostly on her stomach which was exposed with the attire she wore. "A monstrous murderer hey?" She chuckled softly, her eye closing a moment as she thought about it. Probably was her, she had been described as many things in the bandits eyes but this one was really quite amusing.


Taking the new bottle from him she drank without even asking what was in it. Although the pain was a dullish itch she wanted something to just forget it and she hoped this would do the trick. "That-" she said between sips "Has a kick!" She took a fair bit then put the bottle beside her. It did do what she wanted, she felt all her senses dull and the pain wasn't so bad anymore "Sure take your time." She waved him off as she just lay there thinking about what to do next. She couldn't move much, she'd tear the stitching, she figured she would have to be at Tristan's mercy for a while provided he didn't mind but it wasn't like Zero could fend for herself in this state. "I wonder how he's doing…" She said to the quite sky.