Post by Zero Valentine on Jun 22, 2014 5:17:47 GMT -6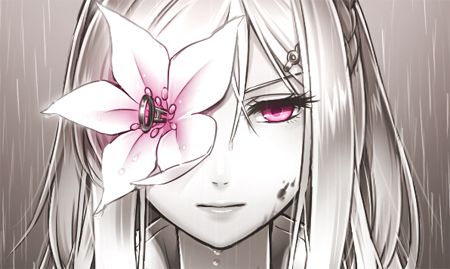 I DON'T WANT TO NEED YOU
Zero watched him as he wrapped the meat, unlike her it seemed that he didn't need to eat as much. It didn't bother her that she ate more, the way she saw it was that she had no food today and she was starving. He would then get what she asked but then did something she didn't expect, he placed his bedroll next to her. She was about to object but he spoke before she could and it smiled at herself for thinking every man wanted one thing – well she didn't have the best track record with men so who could blame her?
She nodded to him and then reached out for the bedroll, bringing to her head she rested on it getting as comfortable as she could. It was then that she noticed a prickle on her stomach but thought it was just the pain, she didn't realise then that it was actually it healing with the help of Tristan's handiwork.
Zero lay there staring at the night sky, she began to think about Ivan. Of all things she could think about she thought about that idiot. Again his words would play in her mind, reminding her of something she constantly struggled with – the fact that deep down she probably was a monster. Wondering what it would be like now, again her thoughts betrayed her and for the first time she felt empty. Don't get it wrong, she felt empty before well at least she thought she did but now…It was the first time she felt like something in her died, like a part of her was missing and it ached. It hurt more than her wounds and she found herself closing her eye to try and stop a tear that wanted to trickle down her face. Zero was no fool, she knew Ivan long enough and well enough to know that he wouldn't come back from this. She saw it in his eyes – for the first time he really did want to kill her.
When she heard Tristan come back she watched as he topped up the first then headed for the trees. It would have been something she would have done – watch over the camp so she smiled when he did it. Knowing she wouldn't have to worry about anything coming for her in the night. Thinking about Tristan again she wondered if maybe it was time to let go and move on – find some solace in this world. With that as her last thought, she fell into a much needed deep slumber.
Notes:
I figure we can end this thread here, move on to another if you like where she is healed. Though I do ask it is still before the Tourney actually took place - like a few days before!! Haha

Skype me, we plots!